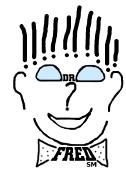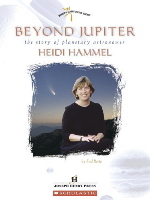 Beyond Jupiter:
The Story of Planetary Astronomer Heidi Hammel
by Dr. Fred Bortz
FROM THE REVIEWERS
The reviewers approve! See what they have to say about Beyond Jupiter and the "Women's Adventures in Science" series below.
---
Order Beyond Jupiter in hard cover from Amazon.com
---
Order Beyond Jupiter in paperback from Amazon.com
---
The Association for Women in Science had high praise for the "Women's Adventures in Science" series in its Winter 2007 issue in a pair of reviews by a high school teacher and one of her students under the title "Science Really Can be Like This."

Excerpts:

The series takes a look at what is frequently perceived as the unfeminine world of science by coloring it in richly spun, completely approachable, and distinctly personal biographies. The books are written to tell how women's careers develop from interests, are cultivated by choices made, and are shaped by the experiences encountered along the way. They tell of families, friends, relationships and all of the other aspects of personal life that knit together to form every woman. Seldom is it possible to find a story that captures both aspects of the woman and the scientist in a single, readable way. Rarer still is it to find it done in a compelling manner that would appeal to young, impressionable readers. (Terri Nostrand, director, Science, Technology and Research Scholars Academy Thomas S. Wootton High School, Montgomery County, Maryland)

These books will encourage any young girl to understand that she is just as capable of becoming America's next great scientist as any boy.... I sincerely hope that through these books, a new generation of women will be born and hope that their futures will change America; change the world. (Helen Lee, currently a junior at Thomas Wootton High School.)


---
Fifth-grade teacher Kari Augustine raves about the "Women's Adventures in Science" series at the NSTA Recommends section of the National Science Teachers Association website.

Excerpts:

...Fifth-grade students with whom I shared these books loved looking at the photos of the scientists as girls and young women and reading about how their early interests, successes, and setbacks affected their choices in later life. Girls also strongly connected with the emotion in the stories. When asked what the coolest thing about the book was, one student said, "It told how she felt about a lot of things"; another commented that the scientist and author "told it how it really was." This emotional content ranges from academic and professional achievements or failures, to family joys and sadness, and it does much to help girls see these scientists as both passionate professionals and daughters, wives, and mothers.

...Although it is likely that this series will draw the attention of girls when displayed in school libraries and classrooms, one of the best ways to use these books will be in a "lunch bunch" or book club setting. The girls in my room buzzed about the books from the moment they chose them, and the books passed from hand-to-hand as they were finished.

...If you need any further encouragement, let me offer these words written by an eighth-grade student. After reading four of the books, she wrote that they were "motivating and inspirational. They show that smart and successful women can be famous for their achievements in science and math, and that women are not only famous for being celebrities. These books inspire young women to work hard, go to college, and go into a career that you are passionate about." I couldn't have said it any better!

Thank you, Ms. Augustine!
---
Sometimes the best "reviews" are not from reviewers but from readers. Wesley A. Traub, Chief Scientist, Navigator Program, and Project Scientist, Terrestrial Planet Finder Coronagraph at NASA's Jet Propulsion Laboratory sent an e-mail to Heidi Hammel, whom he knows professionally, after discovering the book. This is what he wrote:

Last night I read the HH book, and simply want to say that it is a very good read!

I liked the premise of explaining a realistic life story as inspiration for young people. I think your writer did a wonderful job of extracting and presenting things. I'm not a teen-ager any more, nor was I ever anything but a male, but I thought the story should have resonance with teens, and beyond as well (grad students, for example). I also liked the layout, artwork, etc.

When author Fred Bortz wrote to thank him for his praise, he responded with this:

I did indeed enjoy reading the book, not only for its own sake but mostly knowing that it will certainly help to inspire more young people to become scientists. It is clear to me that the world needs more people who can think scientifically. We need them to sustain our intellect, and also, increasingly in this time of depleting the world's resources, to sustain our planet.

You have my permission to quote me and use my name and position.

---

Fellow children's science writer and blogger Loree Burns wrote this:

Encouraging girls to explore the natural world through science is something I get excited about. I was a girl once, after all, and I was a working scientist, too. And I now spend a good deal of my life writing about science and scientists with the hope of encouraging girls ... and boys and women and men ... to get interested in exploring our natural world. When I heard about the new Women's Adventures in Science series from Franklin Watts, Joseph Henry Press and the National Academy of Sciences, I simply had to check it out.

Biographies about scientists and their work are fairly common, and these days biographies of women scientists are readily available. (The series I have written for, Houghton Mifflin's Scientists in the Field includes many titles that feature women scientists.) What distinguished BEYOND JUPITER for me, however, was the way it delved into Heidi Hammel's professional AND personal lives. As a reader, I learned about Heidi's career and the path she has taken to it. And I learned a lot about astronomy; heck, I even found myself getting into astronomy as the author recounted the exciting days of the Great Comet Crash (the Shoemaker-Levy 9 comet crashed into Jupiter in 1994 and Heidi led the team of scientists who observed the melee with the Hubble Space Telescope). But Heidi Hammel also allowed readers a look at the realities of her life: a father struggling with alcoholism, the challenge of failing college classes, the yearning for a life outside of her work, the difficulty of balancing a career in science with motherhood. These realities are often overlooked in this sort of biography. I think including them will do a tremendous service to girls and young women.

There are nine other titles in the Women's Adventures in Science series. There is also this website to learn more about women and girls and science.

---
The review section of the June 2006 issue of Discover magazine features the Women's Adventures in Science series and its website, www.iWASwondering.org. Excerpts:

These women--brilliant scientists all--are...profiled in a series of books for young adults called Women's Adventures in Science, published by Joseph Henry Press/Scholastic. Although different authors penned the books, they all seem to write in the same eager tone, being careful to balance the serious science with wedding snapshots.... Thankfully, they also offer clear explanations of such knotty topics as genetic diseases and nuclear fission.... The straight talk, along with colorful illustrations, makes the series a great resource for school projects.

The best laughs, though, are to be found on an accompanying Web site, www.iWASwondering.org, which complements the books with cartoons and games introduced by a sassy lass with blue-streaked locks named Lia. This gal thinks scientists are cooler than rock stars: ...Astronomer Heidi Hammel, she says, has "seen comets crash into Jupiter, the Great Dark Spot on Neptune, and close-ups of the moons of Mars,"....

Most important, though, both the Web site and book series dismantle the stereotypes of women scientists as spectacled spinsters locked in a lab. These brave women travel the world, tackle global problems, and explore outer planets. They're, like, totally awesome.


---
From Pittsburgh Magazine, April 2006

...Bortz has done a stellar job of telling the human side as well as the science of a modern researcher. This book will be informative and inspiring to any aspiring young scientists.
---
From Science Books & Films, November/December 2005

"...[T]he Women's Adventures in Science series, of which this book is a part, will help encourage more female students to pursue careers in science and engineering. Fred Bortz has captured some of the engaging qualities of Heidi Hammel's personality through extensive work with her and the cooperation of her friends and family. A popular caricature of a scientist as a natural genius, or at least an overachiever, is challenged in this biography....
---
From VOYA, November 2005

"A new biography series highlights the careers of contemporary women scientists and social scientists and the varied paths, often obstacle-strewn, that resulted in their successful careers.... Throughout, the aim of the biographer is to show these women as real people with real personalities, challenges, disappointments, and decisions....
Beyond Jupiter is the story of Heidi Hammel, who... was not good at physics, but after she decided to become an astronomer, she had to struggle through many difficult physics courses. Her years before and during MIT were also burdened by constant worry about her father's alcoholism. Her strong connection with her church and her love of music helped keep her going after his death and through her PhD coursework at the University of Hawaii....
---
From School Library Journal

Engaging career biographies of contemporary scientists. Each volume offers a background profile of the woman, including her childhood interests.... The fine writing and inspiring work of the scientists will reward those students who choose to read these books.
---
From the website of Esme Raji Codell, author of How to Get Your Child to Love Reading

Would you like to meet one of the most exciting female planetary astronomers of our time? This book reads like a visit with a close friend. Full of color photographs attractively laid out, a timeline, glossary and further resources, this book is out of this world in every sense and a must-have for any girl with her head in the clouds and science in her future
---
Return to the main Heidi Hammel page at "Dr. Fred's Place"
Go to the "Dr. Fred's Place" homepage
Discover other books by Fred Bortz
---
Order Beyond Jupiter in hard cover from Amazon.com
---
Order Beyond Jupiter in paperback from Amazon.com
---
Text copyright 2005-7 by Alfred B. Bortz, all rights reserved
---

[Dr. Fred's Office |What's New? | Meet Dr. Fred! | Books By Dr. Fred | Ask Dr. Fred |
School Visits | Dr. Fred's Certified Children's Books | Science Project Discussion Area | Links To Fellow Writers ]
---
Dr. Fred logo and art may not be reproduced in any form for commercial or educational use without the written permission of its owner, Alfred B. Bortz.