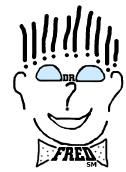 DR. FRED IN HIS ELEMENT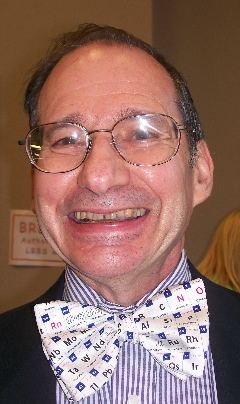 On November 8, 2008, Dr. Fred showed off his Periodic Table bow tie
at the Rochester (NY) Children's Book Festival.

You might say that he was in his element.
---
Information for Schools Considering A Day with Dr. Fred
Dr. Fred will travel from his home in Monroeville, PA, near Pittsburgh, to visit schools anywhere in the United States or Canada. He does not charge for travel expenses in schools he considers to be local. Those include schools within a one-hour drive of Monroeville or in the Cleveland-Canton (OH) area, where Dr. Fred's twin grandchildren live.
For references, rates, or to arrange for "A day with Dr. Fred" click here
.

For details on Dr. Fred's unique year-long Scientist-Author in Electronic Residence program, click here.
---
---
.
---
Text copyright 2008-2012 by Alfred B. Bortz, all rights reserved
---



[Dr. Fred's Office |What's New? | Meet Dr. Fred! | Books By Dr. Fred | Ask Dr. Fred |
School Visits | Dr. Fred's Certified Children's Books | Science Project Discussion Area | Links To Fellow Writers ]
---
Dr. Fred logo, art, or photographs may not be reproduced in any form for commercial or educational use without the written permission of its owner, Alfred B. Bortz.