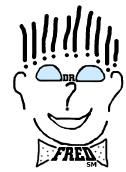 MARTIAN FOSSILS ON EARTH? THE STORY OF METEORITE ALH84001 by Fred Bortz

This book sold out its first printing and will not be reprinted. I am holding a small number of copies for sale to libraries only at the retail price, $22.40, plus shipping. Please e-mail me (DrFredB@worldnet.att.net) to place your order. I will get back to you quickly.
---
---

[Dr. Fred's Office |What's New? | Meet Dr. Fred! | Books By Dr. Fred | Ask Dr. Fred |
School Visits | Dr. Fred's Certified Children's Books | Science Project Discussion Area | Links To Fellow Writers ]
---
Dr. Fred logo and art may not be reproduced in any form for commercial or educational use without the written permission of its owner, Alfred B. Bortz.